The Thunderbird Review is an inclusive journal based out of Fond du Lac Tribal and Community College. Each year, the journal looks for work that speaks to the human condition and that fulfills our College's goal to create a union of cultures.
The Thunderbird Review is open to submissions of high-quality, poetry, non-fiction, fiction, and art each year from October 15 – December 1. For updates and excerpts from our issues, follow us on Facebook at www.facebook.com/thethunderbirdreview.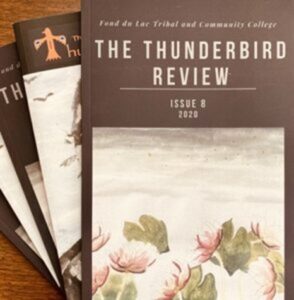 Eligibility:
Please submit if you reside in or have a strong connection to the Twin Ports area and the counties and tribal nations that surround it or if you are a current student at FDLTCC, UWS, UMD, CSS, NTC, or LSC.
What to Submit:
Short fiction: 3000 words maximum
Creative Non-Fiction: 3000 words maximum
Poetry: 3 poems maximum (submitted in ONE document)
Art: 3 works maximum (submitted as .jpegs)
How to Submit:
Email previously unpublished work as a .doc or .docx file (no PDFs) to anthology*AT*fdltcc.edu using the words "Anthology Submission" in the subject line. Your email must include the following information:
Your name, address, telephone number, and preferred email address
Title(s) of works being submitted
A 50-word bio written in the third person
If you do not reside in region, include an explanation of your connection to the area
By submitting your work, you consent to its publication in the journal and certify that it is your own original work. Contributors will receive one complimentary copy.
Any questions or requests to get a copy of the journal can be directed to Darci Schummer at dschummer*AT*fdltcc.edu.