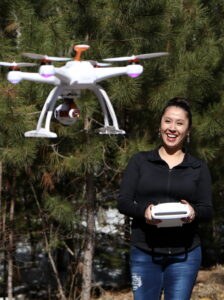 Fond du Lac Tribal and Community College, in partnership with Pine Technical and Community College, is offering a simplified course that prepares individuals to earn the Federal Aviation Administration (FAA) Remote Pilot Certificate in Commercial Drone operations.
The self-paced course prepares students to pass the FAA Part 107 Knowledge Tests. Course topics cover all requirements and phases for Drone Flight Operations, emphasizing safety and real-world applications. The course includes nine lessons, quizzes, and FAA practice tests. The lessons take approximately 45 hours to complete and students have 12 weeks to finish the course from the day they register for the course. Cost to register is $149 and all materials are included.
The course instructor is Jason Schappert, CFll, ATP, founder of MZEROA.COM, author of eight aviation publications, and an experienced director and producer of online ground school courses.
"This is a new course for us to offer at Fond du Lac Tribal and Community College and it is certainly an exciting topic to present," said Tess Dandrea, Customized Training Representative at the college. "Real-world applications for drone operators continue to expand at a rapid pace and operators need to complete approved training courses and pass the FAA test to legally pilot and fly a commercial, remote device."
The non-credit course is open to anyone interested in earning the FAA Remote Pilot Certification or simply to learn about the requirements to operate a drone device. Students may register and begin the course at any time since it is self-paced and not tied to a semester term.
"We have one of the nation's most experienced remote pilot instructors and a great partnership with Pine Technical and Community College developed so that the course will meet the needs of students," said Dandrea. "The lessons will cover safe drone operations, understanding FAA rules and regulations, interpreting weather charts, developing crew resource management skills, executing emergency procedures during in-flight operations, and applying aviation knowledge into real-life situations and testing scenarios."
The online and video-based educational program follows FAA guidelines. Students will develop skills, knowledge and abilities to execute aeronautical decision making, thus increasing employability of students in industries with emerging application of remotely operated aircraft.
Industries where certified remote pilot operators are employed or contracted for services include agriculture, law enforcement, public safety, first responders, cybersecurity, delivery services, construction, surveying/land and property inspections, real estate, insurance, aerial videography/photography, and engineering.
For more information, contact Tess Dandrea at (218) 879-0741 or via email at tess.dandrea*AT*fdltcc.edu. Course registration is available online through Pine Technical and Community College here.