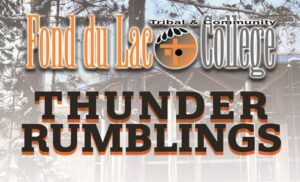 Hello Campus Community,
Welcome to the new Thunder Rumblings!
Important Information
Fall Scholarship 2022: The Fond du Lac Tribal and Community College Foundation has scholarships available for you to apply for. Applications are now being accepted, the deadline is Friday, October 7th. Please complete the application and provide required documents to Stephanie Untiedt in the Administrative Wing Office W105 or return to her via email. If you would like assistance completing the application, please contact your TRIO advisor or the writing tutor in the CAA.

A scholarship sub-committee will review the applications and make the awards sometime after the deadline.
These are great opportunities to help you on your path here at FDLTCC so please apply! Questions, please email stephanie.untiedt*AT*fdltcc.edu

Please be sure to sign up for the Fond du Lac Tribal and Community College's emergency alert system–Blackboard. You can choose to receive emergency notifications from FDLTCC via email, text, or phone call. Be the first to know about winter weather school delays or closures at FDLTCC! Registration is on the college's website at https://fdltcc.bbcportal.com/

First time user? Click "Sign Me Up!"
Note: If you are already signed up, you can sign in to update your information.
Upcoming Events
The Environmental Club will meet every Monday at noon in the Environmental Institute!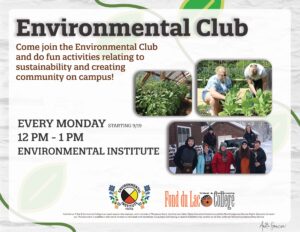 FDLTCC advisors and program coordinators are here to assist you with registration or any other questions.

Click

here

for their contact information. 

 

 

Nursing Program Application for 2-year Associate Degree Nursing for Spring 2023 is OPEN!

 

All interested students are encouraged to apply. For more information visit the

FDLTCC Nursing webpage

.  

 
Law Enforcement Program Advising is accepting appointments.

All interested students are encouraged to reach out to the program coordinator or email

michael.tusken@fdltcc.edu

. 

 
Check your account on eServices to make sure that your Fall financial aid has applied correctly.  If you have questions about your bill, please contact Sheila at

sreed@fdltcc.edu

or 218-879-0812 or Paula at

paula@fdltcc.edu

or 218-879-0809.

 

Make sure you have a plan to pay off your account for Fall.  If you have $500 or more remaining on your account when Spring registration opens, a financial hold will be placed on your account.  A hold will prevent you from registering online for Spring semester.  If you need assistance setting up a payment plan for your Fall bill, please contact Rose at

rosey@fdltcc.edu

or 218-879-0798.

 
Get help, Free! 
Tutoring, Computers, Testing, Printer, Place to study with support 
CAA hours: M,T,W,TH,F 8-4 
Testing hours: By appointment only with 24 hour notice. Testing hours are M,T,W,F 9-3.  
Contact Sarah Libbon at 218-355-1247 or slibbon@fdltcc.edu 
If you have a disability and have not received disability accommodations at FDLTCC previously, the first step is to fill out a Disability Services

Student Request for Services

application. 

 
Please contact Nancy Olsen, Disability Services Coordinator, at 218-879-0864,

nancy.olsen@fdltcc.edu,

to receive an application or if you have questions about Disability Services and receiving disability accommodations.

 

If you have received accommodations for your FDLTCC classes in a previous semester but haven't requested them for your fall semester classes, please contact Nancy right away.

 
The American Indian College Fund Scholarships

for 2022-2023 are open! Apply at:

https://Collegefund.org/students/scholarships

Deadline to apply for Fall:

This Friday

, September 30, 2022

 

If you are concerned or have difficulty affording groceries or accessing enough food to eat every day, we have good news!  You may be eligible for new opportunities to get additional support including Supplemental Nutrition Assistance Program also known as SNAP. Click here for more information:

SNAP: Supplemental Nutrition Assistance Program | Fond Du Lac Tribal Community College (fdltcc.edu)

 

Changes to Your Family's Financial Situation and Fall 2022 Financial Aid: If you or your family's financial situation has changed significantly from what it was in 2020, you may be eligible to have your Fall 2022 financial aid adjusted. Please contact the Financial Aid Office for more information.

 

Money rumblings:

Learn how to invest for retirement, become debt free, protect from identity theft, and more!  GradReady on our website at

https://fdltcc.edu/paying-for-college/money-management-information/

and

Get Started

 
Please contact Jesse Stirewalt at 218-590-3345 or jstirewalt@fdltcc.edu if you have questions about living on campus. 
Fall Semester Hours: M-TH: 8:30 a.m. – 6:30 p.m.; F: 8:30 a.m. – 4:30 p.m.

 

Need library assistance? Contact the librarian at 

keith.cich@fdltcc.edu

or 218-879-0837

 
Keep on the lookout for

phishing emails

. Take a moment to think before you click. 

 
Need help with your StarID password? Go to

https://starid.minnstate.edu

 

 

For all students in the Cloquet area, the Computing "Open Lab" W205 is available:




M-F 8:00AM – 9:00PM, Sat. 9:00AM – 3:00PM
Please contact Ashley at ashley.tegels@fdltcc.edu or click the link https://fdltcc.starfishsolutions.com/starfish-ops/dl/instructor/serviceCatalog.html?bookmark=connection/4449/schedule to schedule in NorthStar if you need referrals, resources, and/or advocacy for the following needs: 
Mental health, chemical health, housing, emergency assistance, food, health care, childcare and clothing. 

 

The Food Pantry is open M-F from 11am-12pm and 3pm-4pm. If you need to access the Food Pantry at another time, please contact Ashley Tegels to set up an appointment.
To sign up for the Food Pantry, use this QR Code: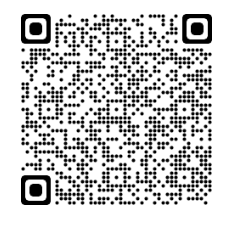 Join the TRiO Program!  We offer the following FREE services:  
Advising 

 

Professional tutoring in Math, Science, & Writing 

 

Workshops on a variety of topics (academic & personal interest) 

 
Transfer assistance (applications, transcripts, & fee waivers) 

 
Email Courtney courtneyedwards@fdltcc.edu or Kelly kbahen@fdltcc.edu for more information!   
Great Opportunities for Students

Environmental Institute Research Opportunities. Students interested in applying for flexible work study positions to gain experience in various research projects can reach out to Arianna.northbird@fdltcc.edu. Here are some of the projects and opportunities: 
NASA Snow Ex snow depth data measuring

 

eDNA Aquatic Invasive Species monitoring 

 

Mercury contamination monitoring in the St. Louis River Watershed 

 

Lynx tracking and oak blueberry monitoring partnering with the Superior National Forest

 
Thunder Deli Work Study Position Available!
The Thunder Deli has a work study position open. Hours are 10-1 Monday-Thursday.  This position will help with food prep and check out customers at the register during lunch.  If you are interested, reach out to Bret at bret.busakowski@fdltcc.edu or 218-879-0810.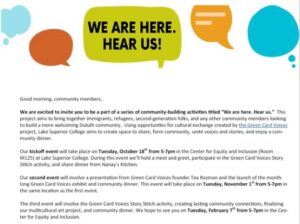 Walk-ins are welcome, but we would appreciate folks signing up so we can be best prepared. Please sign up here.  
Fall 2022 Transfer Representative Visit Schedule

Shane Deadrick, Transfer Coordinator, University of Wisconsin Superior:  
Tuesday, November 1 from 9:00am – NOON

Monday, November 21 from 9:00am – NOON

Wednesday, December 14 from 9:00am – NOON
Jennifer Burns, Transfer Coordinator, University of Minnesota Duluth:
Tuesday, October 18

from 9:00am – NOON

 

Monday, November 14

from 9:00am – NOON

 

Tuesday, December 13

from 9:00am – NOON

 

 
Brenda Panger, Associate Director, Transfer Admissions from the College of St. Scholastica will be on campus the following days this fall: 
Wednesday, October 5 from 10:00am – 12:00pm

 

Wednesday, November 9 from 10:00am – 12:00pm

 

Monday, December 7 from 10:00am – 12:00pm
Photojournalism at FDLTCC

Students in the Introduction to Digital Storytelling class of the Multimedia Production degree program recently had a journalism assignment to take a photo of college life at FDLTCC.   
We need your help.  
We are having a hard time selecting which one of these four great photos and news captions should be the lead image at the top of a news website. We would like you – FDLTCC students, faculty, and staff – to assign each of the four a different ranking with 1 for the best down to 4 in this MS FORM: https://forms.office.com/r/WcFfj3FHYH
Publication deadline is Friday, October 7, 2022 so please do your ranking from 1 to 4 as soon as possible. Thanks for helping us make this tough photojournalism editorial decision.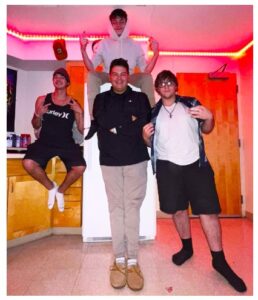 Students pose for a photograph in their dormitory room at Fond du Lac Tribal and Community College (FDLTCC) in Cloquet, Minnesota on Wednesday, September 14, 2022. FDLTCC has close to full occupancy in the residence hall at the start of this Fall semester. (FDLTCC Photo/Isaiah Hutchinson)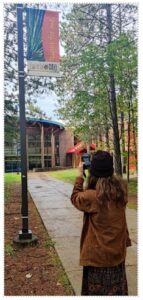 Bee Kakac takes a photograph of a Fond du Lac Tribal and Community College banner on the campus in Cloquet, Minnesota on Thursday, September 15, 2022. Kakac is working on an assignment for her Introduction to Digital Storytelling class. (FDLTCC Photo/Leilani Belisle-Summers)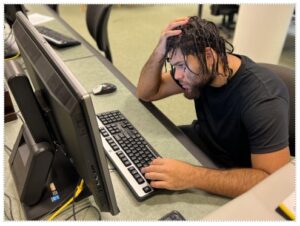 Moises Rivera looks at the computer monitor on the Fond du Lac Tribal and Community College campus in Cloquet, Minnesota on Thursday, September 8, 2022. Rivera is a student-athlete and plans to finish his general course requirements so he can continue to play basketball at a university. (FDLTCC Photo/Trina Headbird)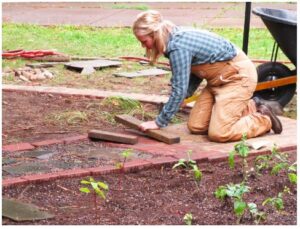 Kelsey Mhyre works on the new Medicine Garden at Fond du Lac Tribal and Community College (FDLTCC) in Cloquet, Minnesota on Thursday, September 15, 2022. Mhyre, a VISTA Volunteer at the FDLTCC Environmental Institute, helped students, faculty, and staff create the new space which features cedar, white sage, sweetgrass, purple coneflower, and other pollinator plants. (FDLTCC Photo/Shelden Misquadace)