Anishinaabeg Gikendaasowinan
Anishinaabeg Gikendaasowinan (the Peoples Way of Knowing) programs are a collection of Indigenous focused programs at Fond du Lac Tribal and Community College. Accredited by the World Indigenous Nations Higher Education Consortium (WINHEC), Anishinaabeg Gikendaasowinan's vision is to offer learning opportunities that honor and extend the traditional knowledge of the Ojibwe-Anishinaabe people.
This vision is achieved by providing educational opportunities dedicated to the Ojibwe-Anishinaabeg people served at the institution, and by providing educational outreach to the community that supports and enhances understanding of Ojibwe-Anishinaabeg traditional knowledge.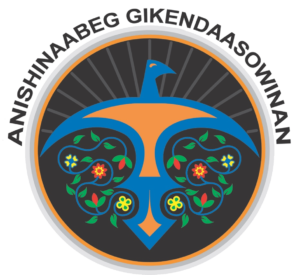 0

%

49% of all 2020-21 FDLTCC graduates continued their education after graduation.
0
Native Americans are Carlton County's fastest growing ethnic demographic, over 133,000 Minnesota residents are Native American
$
0
American Indians Studies graduates earn a median salary of $53,611 as postsecondary teachers in NE Minnesota.
Anishinaabeg Gikendaasowinan Programs
Dibaajimowinaan (Telling Our Story: American Indian Studies AA)
Niindaa'iwedaa o'o Gikendaasowin (Let's send this knowledge to the People: Elementary Education AS)
Bachelor's of Science in Elementary Education
Giminogi'awasaanaanig Nitaawigi'angwaa (Raise children in a good way as they grow: Early
Childhood Development AS, AA)
Associates of Fine Arts (focused on Ojibwe traditional art forms)
Ojibwemotaadidaa Omaa Gidakiiminaang (Ojibwe Language Immersion Academy)
Environmental Institute and Thirteen Moons
Preservation of Traditional Arts Extension Program
Mission
Anishinaabeg Gikendaasowinan's mission is to promote, honor and value the language, history, worldview, and knowledge of the Ojibwe-Anishinaabe people thereby ensuring the longevity of the Ojibwe-Anishinaabeg culture. This is evidenced in the commitment to, and practice of Gidizhitwaawinaanin – Ojibwe cultural standards/learning goals in all programs. These underlying learning goals are highly interdependent and interrelated, congruent with an Ojibwe-Anishinaabe worldview. No single learning goal is meant to stand alone; instead, each is best fulfilled when in concert with one another.
Anishinaabeg Gikendaasowinan Gidizhitwaawinaanin (Our Cultural Standards)
Goal 1: GIKENDAASOWIN – Knowing knowledge:  
To develop human beings who value knowledge, learning, and critical thinking and are able to effectively use the language, knowledge, and skills central to an Ojibwe- Anishinaabe way of knowing. The Ojibwe-Anishinaabe language is at the heart of its worldview, and the program seeks to develop speakers who use Ojibwe-Anishinaabe language and knowledge effectively to speak, listen, and act in culturally appropriate ways.
The development of critical thinking unifies factual, logical, rational, and value-sensitive thought with culturally appropriate knowledge. Students are encouraged to develop awareness of their own thinking, reasoning, problem solving, and decision-making processes.
Goal 2: GWAYAKWAADIZIWIN – Living a balanced way: 
To develop balanced human beings who are reflective, informed learners who understand the interrelatedness of human society and the natural environment, recognize the importance of living in harmony with creation, and are able to apply a systems approach to understanding and deciding on a course of action.
Students learn to appreciate the importance of balance in their lives and in the broader community by understanding natural science principles, biophysical principles, socio-cultural systems, and the long-term consequences of actions.
Goal 3: ZOONGIDE'EWIN – Strong hearted: 
To increase the students' capacity to live and walk with a strong heart, humble and open to new ideas and courageous enough to confront the accepted truths of history and society. Students increase their understanding of how historians and social and behavioral scientists discover, describe, and explain the interactions among individuals, groups, institutions events and ideas. Students are encouraged to talk about and see the interrelated dynamics (historical, social, political, and economic) of multiple interpretations of facts.
Goal 4: AANGWAAMIZIWIN – Diligence and caution:  
To develop students' capacity to proceed carefully, after identifying, discussing, and reflecting on the logical and ethical dimensions of political, social, and personal life. Students develop the capacity to evaluate arguments and detect fallacious reasoning using mathematical, logical, and/or statistical information to inform their lives and careers. Responsible citizenship requires that students develop the knowledge necessary to understand tribal sovereignty, as well as treaty rights and obligations.
Goal 5: DEBWEWIN – Honesty and integrity:  
To increase students' capacity to think and act with honesty and integrity as they understand and face the realities of increasingly interdependent nations and people. Utilizing the available technologies, students develop their capacity to see other individuals, communities, and Nations realistically while contrasting with their own social, cultural, economic, and political identity. Students are encouraged to use Ojibwe-Anishinaabe gikendaasowin as a baseline to learn about the social, cultural, and political views of self and others.
Goal 6: ZAAGI' IDIWIN – Loving and Caring:  
To encourage students' acceptance of the diversity within their school, community, and environment by developing healthy, caring relationships built on respect for all.
Students increase their understanding of individual, tribal, and group differences (e.g. tribe, race, gender, class) and develop their knowledge of the traditions and values of various groups in the United States.
Goal 7: ZHAWENINDIWIN – Compassion:  
To expand students' knowledge of the human condition and human cultures, and the importance of compassion especially in relation to behavior, ideas, and values expressed in the works of human imagination and thought. Through study in literature, oral traditions, philosophy, and various cultural art forms, students are encouraged to develop an empathetic appreciation for the arts and humanities. Students will be able to discern the significance of arts and humanities to the health and survival of society.