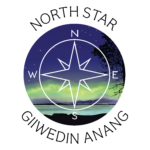 "Polaris, the North Star is uniquely important. Fixed in place, an anchor. No matter where you are in the northern hemisphere, if you face Polaris, you face North. You know where you are.  But, there are other ways to get lost. In the choices we make, in events that overwhelm us, even within our own minds. What can be an anchor then?  What beacon can we turn to, to guide us from darkness to light?  What if it's other people? The lives that touch our own, in ways big and small? Because unlike Polaris, the light that they bring will never fade,"  Cassie Brown.
WHAT IS NORTH STAR?
Student success is at the heart of what Fond du Lac Tribal and Community College staff, faculty and administration strives to achieve. To help support our students in their educational journeys, FDLTCC uses a communication platform called North Star.
WHAT CAN NORTH STAR DO FOR STUDENTS?
Students are at the center of the North Star universe. During your time at FDLTCC, support is at your fingertips. By using the North Star platform you can raise your hand for assistance and North Star will allow our staff, faculty and administrators to respond to you in a timely manner. Our employees can also easily communicate with you regarding any concerns they have or to celebrate your classroom successes!
FDLTCC cares about you and the goals you have set for yourself. Using this software is one way student and college employees empower you to be successful.
INFORMATION FOR STUDENTS
Students will be introduced to North Star during the Fall 2022 semester. More information to come.
North Star Video #1: How to Use North Star
Companion Document for Video #1: How to Use North Star
North Star Video #2: How to Access North Star and Edit Your Profile
Companion Document for Video #2: How to Access North Star and Edit Your Profile
North Star Video #3: Dashboard and My Success Network
Companion Document for Video #3: Dashboard and My Success Network
North Star Video #4: Schedule and Edit Appointments
Companion Document for Video #4: Schedule and Edit Appointments