MULTIMEDIA PRODUCTION DEGREE PROGRAM
Start YOUR story by learning valuable multimedia production skills to get a great job or pursue your studies in an exciting ever-growing field.
The Multimedia Production program offers three great options: a Certificate, Diploma, and Associate of Applied Science, whichever fits your path. From day one, you will enjoy a hands-on experience with the latest recording equipment, industry standard production apps, and access to the Ojibwemowining Digital Arts and Storytelling Studio – known to FDLTCC students as ODAS Studio – a professional multimedia production facility on campus.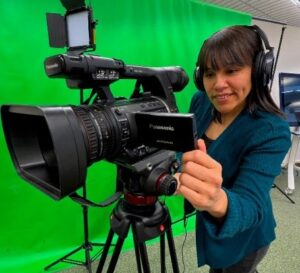 CERTIFICATE
Our 16-credit Multimedia Production Certificate is a well-rounded introduction to digital storytelling through the different styles of journalism, public relations, marketing, and art. No matter what a student is studying at FDLTCC, this Certificate looks great on a job application or school transcript.
DIPLOMA
The 38-credit Multimedia Production Diploma lets you improve your digital skills by taking full-semester courses focusing on photography, audio, video, and computer animation. This is a golden opportunity for you to learn how to create, edit, and distribute your original digital content.
ASSOCIATE OF APPLIED SCIENCE (A.A.S.)
If you are interested in a career in multimedia production, the 60-credit A.A.S. degree is the path for you. In addition to the more advanced coursework, you will have the opportunity to do an internship with professionals in the media field.  And with just a few more credits, you can also earn an Associate of Arts degree.
NBCU ACADEMY SCHOLARSHIP
FDLTCC is thrilled to announce a new scholarship for students interested in Multimedia Production. Starting Fall 2023, the Multimedia Production program at FDLTCC will award a $2,500 scholarship to 5 students each semester. The exciting scholarship was made possible by the college's new partnership with NBCU Academy.
To apply for the scholarship, please visit https://link.fdltcc.edu/NBCU-Scholarship.
Apply for the NBCU Academy Scholarship
CAREER OPPORTUNITIES
The Multimedia Production program is the start of your path to a diverse range of careers including:
Social Media Specialist
Photographer
Music Producer
Videographer
Computer Animator
Film Crew
Public Relations Content Creator
Photojournalist
Audio Engineer
Video Game Developer
Digital Marketing Editor
Multimedia Artist
and many, many more