After 20 years of planning and collaborative effort, Fond du Lac Tribal and Community College (FDLTCC) is excited to launch its new Bachelor of Science Degree in Elementary Education with the first cohort of future teachers taking their first classes in January.  FDLTCC is the first two-year educational institute in Minnesota to earn approval to offer a baccalaureate degree. For more information on the Elementary Education program, visit https://fdltcc.edu/degrees-certificates/degree-programs/elementary-education/.
The new B.S. Degree will lead to a Minnesota Teacher Kindergarten to 6th Grade license. According to Dr. Kim Spoor, Dean of Education, "We are so excited to offer this unique program at FDLTCC, as currently, only 1% of licensed teachers in Minnesota are American Indian, and our program will help fill this gap."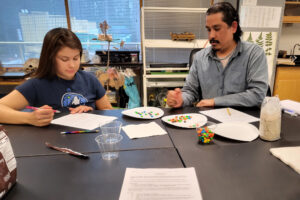 Spoor adds that it is important for people to know that this program will serve both Native and Non-native student educators who are interested in knowing how to best serve all K-6 students in various classroom settings. Besides being the first ever four-year degree program offered at FDLTCC, "…no other teacher education program in Minnesota offers a program that meets state requirements while also intertwining our Indigenous ways of knowing and cultural values" shared Spoor.
A feast recognizing those that have worked toward getting the 4-year degree program to FDLTCC will take place in the commons of the Cloquet campus on October 28th from 10:00 AM to 1:00 PM.  Activities will include an opening pipe ceremony, the drum, and followed by a feast.
"We want to thank the many people who helped to make this program possible and also give our community a chance to learn about the program and about how to enroll if they wish to be a part of this first-in-the-state opportunity," shared Stephanie Hammitt, FDLTCC President.
For more information about the Elementary Education program at FDLTCC and the Bachelor of Science Degree, please contact Dr. Kim Spoor via email at kimberly.spoor*AT*fdltcc.edu , Sara Montgomery via email at smontgomery*AT*fdltcc.edu, or visit https://fdltcc.edu/degrees-certificates/degree-programs/elementary-education/.