Fond du Lac Tribal and Community College celebrated the Associate Degree Nursing Program Graduating Class of 2022 during a Pinning Ceremony on Tuesday, May 10, 2022. The wonderful ceremony featured speeches from Kasey Enerson, the FDLTCC Nursing Club President, and Elsa Ring, a member of the FDLTCC Nursing Faculty. Andrea Simek, Dean of Nursing and Health Sciences provided the opening address; FDLTCC President, Stephanie Hammitt, offered a President's Welcome; Chelsea Salzer, from the FDLTCC Nursing Faculty, conducted the Presentation of Pins; and the Cedar Creek Singers provided the opening and traveling songs. The 27 graduates were pinned by family and friends during the ceremony.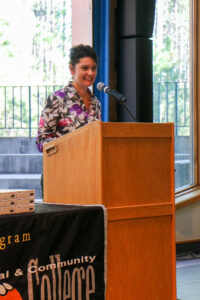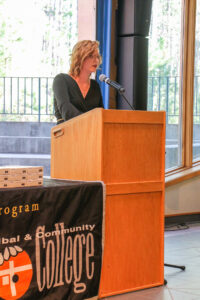 The mission of Fond du Lac Tribal and Community College Nursing Program is to provide the education necessary for entry into nursing. This program prepares the graduate to provide culturally competent care. The program aims to educate nurses to be culturally sensitive, focusing on the health needs of the American Indian population and the rural community. Upon completion of this program the graduate will be eligible to sit for the licensure exam.
The Associate Degree Nursing program at FDLTCC is approved by the Minnesota Board of Nursing and holds accreditation with the Accreditation Commission for Education in Nursing.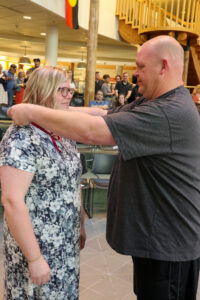 The Associate Degree Nursing Program Graduating Class of 2022 includes:
Austin Ani, Brooklyn Center MN
Sheila Belland, Esko MN
Robyn Lynn Conley, Duluth MN
Sarah Durfee, Cloquet MN
McKenzie Eldredge, Cloquet MN
Kasey Enerson, Cloquet MN
Lydia Gagnon, Cotton MN
Brianna Gilbertson, Brookston MN
Ashlee Hagen, Carlton MN
Brandi Hanson, Duluth MN
Savannah Johnson, Culver MN
Kennedy Kibet, Duluth MN
Megan King, Cloquet MN
Andrea Korkala, Barnum MN
Jeremy Matts, Duluth MN
Amanda Miller, Duluth, MN
Kelsey Miller, Cloquet MN
Michaela Mowry, Cloquet MN
Gwendolyn M Pinson, Sandstone, MN
Shelby Reitan, Two Harbors MN
Jordan Leigh Sandal, Duluth MN
Marisa Sandretsky, Two Harbors MN
Kayla Tahja, Floodwood MN
Abby Tetrault, Iron, MN
Nichole Theisen, Cloquet MN
Kristen L Tobeck, Carlton MN
Holly Wold Sturgeon, Lake MN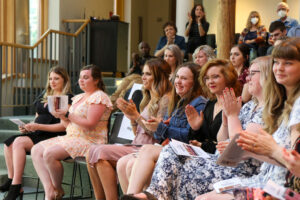 For more information on the Pinning Ceremony or the Nursing program at FDLTCC, please contact Cassandra Nicholson at cnicholson*AT*fdltcc.edu.