Fond du Lac Tribal and Community College is excited to debut the Ruth A. Myers Lecture Series in the Sciences and Humanities with a free virtual presentation by Robin Wall Kimmerer at 7:00pm on September 22, 2021.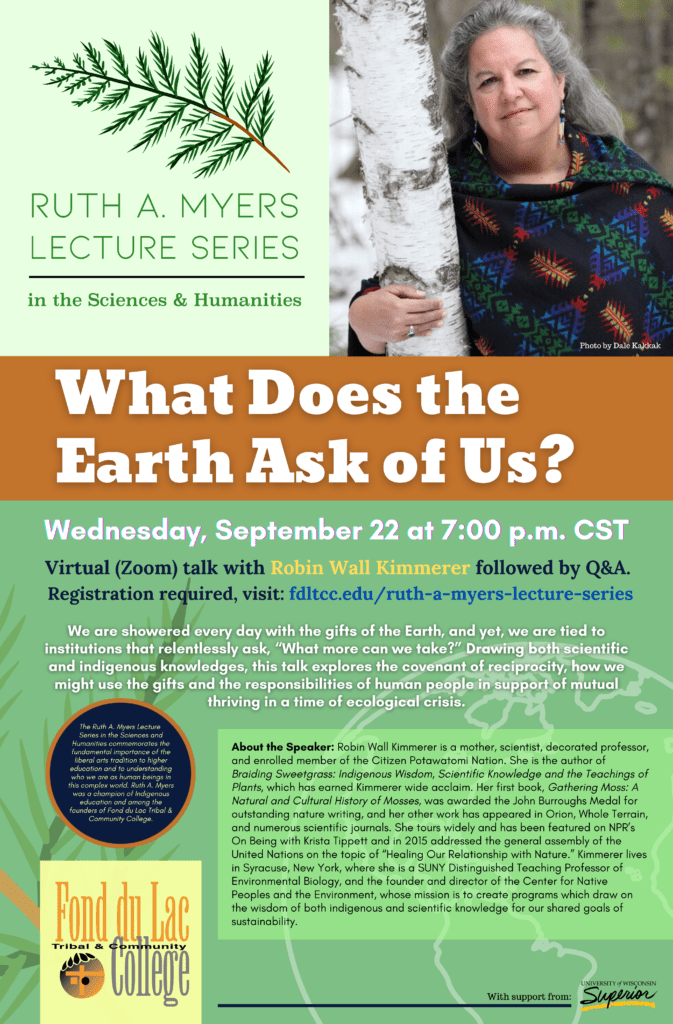 During the event, Robin Wall Kimmerer will discuss, "What Does the Earth Ask of Us?" We are showered every day with the gifts of the Earth, and yet, we are tied to institutions that relentlessly ask, "What more can we take?" Drawing on both scientific and indigenous knowledges, this talk explores the covenant of reciprocity, how we might use the gifts and the responsibilities of human people in support of mutual thriving in a time of ecological crisis. To register for this special free event, click here.
Robin Wall Kimmerer is a mother, scientist, decorated professor, and enrolled member of the Citizen Potawatomi Nation. She is the author of Braiding Sweetgrass: Indigenous Wisdom, Scientific Knowledge and the Teachings of Plants, which has earned Kimmerer wide acclaim. Her first book, Gathering Moss: A Natural and Cultural History of Mosses, was awarded the John Burroughs Medal for outstanding nature writing, and her other work has appeared in Orion, Whole Terrain, and numerous scientific journals. She tours widely and has been featured on NPR's On Being with Krista Tippett and in 2015 addressed the general assembly of the United Nations on the topic of "Healing Our Relationship with Nature."
Kimmerer lives in Syracuse, New York, where she is a SUNY Distinguished Teaching Professor of Environmental Biology, and the founder and director of the Center for Native Peoples and the Environment, whose mission is to create programs which draw on the wisdom of both indigenous and scientific knowledge for our shared goals of sustainability.
The Ruth A. Myers Lecture Series commemorates the fundamental importance of the liberal arts tradition to higher education and to understanding who we are as human beings in this complex world. Ruth A. Myers was a champion of Indigenous education and among the founders of Fond du Lac Tribal and Community College.
For more information and registration, click here.