Fond du Lac Tribal and Community College is excited to share the list of students in this year's graduating class that received campus honors.
Each year during Commencement Week, the Graduate Recognition Awards Ceremony celebrates the accomplishments of graduating students in the areas of Academic Achievement, Service to the College, and Community Service. Students are nominated and selected by the staff, faculty, and administration of the college.
Highlights this year include the announcement of Janice Sherman of Kettle River as 2022 Student of the Year, and Presidential Merit awards presented to Kasey Enerson of Cloquet, Savannah Johnson of Culver, Alysia Oswald of Moose Lake, and Key Powless of Duluth.
The following Fond du Lac Tribal and Community College students received awards: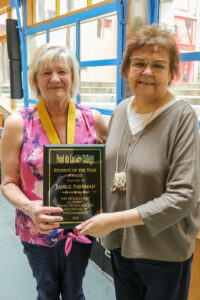 Student of the Year      
Janice Sherman, Kettle River, Minnesota
Presidential Merit Award
Kasey Enerson, Cloquet, MN
Savannah Johnston, Culver, MN
Alysia Oswald, Moose Lake, MN
Key Powless, Duluth, MN
Academic High Honors Award
(4.0 GPA)
Cambridge, MN
Joshua Wood
Cloquet, MN
Megan King
Amanda Wilson
Dodge Center, MN
Eleanor Freerksen
Duluth, MN
Mercedes Anderson
Anna Balsimo
Justin Jacobson
Jeremy Matts
Macie VanBuskirk
Hinckley, MN
Abigail Weber
Kettle River, MN
Janice Sherman
Lake Nebagamon, WI
Robert Dahlberg
Saginaw, MN
Winnie Benjamin-Hall
Sandstone, MN
Isabella Lourey-Bowen
Gwendolyn Pinson
Wright, MN
Nahin Gatica Cruz
Academic Honors Award
(GPA 3.75 – 3.99)
Carlton, MN
Brittney Nelson
Cloquet, MN
Jesse Bahen
Kierra DeFoe Tormanen
Brianna Reynolds
Gabriel Sanchez-Eno
Alyza Savage
Duluth, MN
Bradley Hoder
Micah Hughes
Matthew Jessup
Miranda Pacheco
Jessica Penn
Esko, MN
Sheila Belland
Hermantown, MN
Kaylen Forsberg
McGregor, MN
Luke Gould
Moose Lake, MN
Alysia Oswald
Plymouth, MN
Haley Christensen
Superior, WI
Brittany Willie
Two Harbors, MN
Denise Huckabee
Shelby Reitan
Service to the Community Award
Carlton, MN  
Spencer Nynas
Cloquet, MN  
Kasey Enerson
Megan King
Gabriel Sanchez Eno
Culver, MN    
Savannah Johnston
Duluth, MN    
Bradley Felmlee
Paulina Johansen
Miranda Pacheco
Key Powless
Jordan Sandal
Macie VanBuskirk
Inver Grove Heights, MN      
Matthew Hatfield
Kettle River, MN
Janice Sherman
McGregor, MN          
Luke Gould
Service to the College Award
Arcadia, FL
Trayvis Smith
Barnum, MN
Tricia Gottschalk
Andrea Korkala
Brimson, MN
Andrew Elmquist
Brooklyn Center, MN
Augustine Ani
Brookston, MN
Brianna Gilberson
Cambridge, MN
Joshua Wood
Carlton, MN
Ashley Hagen
Spencer Nynas
Kristen Tobeck
Cloquet, MN
Jesse Bahen
Joseph Bruce
Sarah Durfee
McKenzie Eldredge
Kasey Enerson
Jordan Hernandez
Megan King
Kelsey Miller
Michaela Mowry
Gabriel Sanchez-Eno
Nichole Theisen
Cotton, MN
Lydia Gagnon
Cromwell, MN
Brandon Soulier
Culver, MN
Savannah Johnston
Duluth, MN
Robyn Conley
Bradley Felmlee
Brandi Hanson
Micah Hughes
Derek Hussey
Justin Jacobson
Matthew Jessup
Paulina Johnasen
Kennedy Kibet
Jeremy Matts
Amanda Miller
Key Powless
Joshua Radosevich
Jordan Sandal
Macie VanBuskirk
Esko, MN
Sheila Belland
Floodwood, MN
Kayla Tahja
Inver Grove Heights, MN
Matthew Hatfield
Kettle River, MN
Janice Sherman
Mahnomen, MN
Carissa Coleman
Moose Lake, MN
Alysia Oswald
Plymouth, MN
Haley Christensen
Saginaw, MN
Katie LaTourelle
Sandstone, MN
Gwendolyn Pinson
Superior, WI
Caleb Smith
Two Harbors, MN
Shelby Reitan
Marisa Sandresky