Northeast Minnesota Office of Job Training (JET) and Fond du Lac Tribal and Community College (FDLTCC) are offering another great opportunity for free Nursing Assistant training. The 4-week fast track hybrid class will take place throughout June.
This is the second time JET and FDLTCC have partnered together to provide free Nursing Assistant training. "The JET and Fond du Lac Tribal & Community College partnership for the CNA program was amazing! I really enjoyed working with all staff members to bring such a great opportunity to our community!" shared Laura Nilsen, Career Counselor at JET, "Even better, all seven participants passed the nursing assistant class, are ready to test, received support as needed to purchase uniforms, shoes, and laptops and have all secured employment! You can't ask for much more than that!"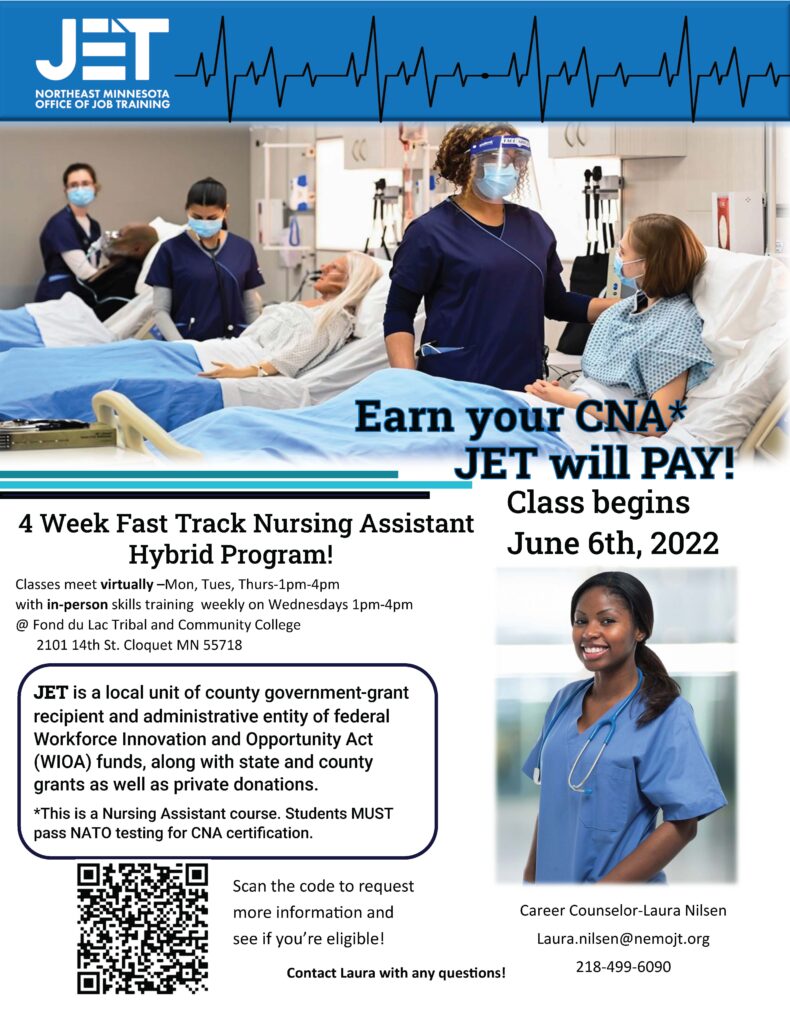 Eligible individuals interested in pursuing the exciting field of nursing can take a unique 4-week Nursing Assistant course at FDLTCC for free, courtesy of JET. Students participating in the hybrid program will participate in virtual courses on Mondays, Tuesdays, and Thursdays and receive hands on skills training with in-person classes at FDLTCC on Wednesdays. Upon completion of the course, students will need to pass NATO testing to receive CNA certification. "The thing I loved most about taking this class was that it was hands on and got to be in person," shared Raeann Barney, one of the seven students that passed the course during the first offering of the free training, "For me, being able to be right in the classroom watching our teacher is the fastest way to learn. Overall, I am very happy that I got to be a part of the class and have such a good teacher!"
This unique offer is only available to individuals eligible for JET programming and is limited to the course starting June 6, 2022. Spaces are limited.
JET is a non-profit organization-grant recipient and administrative entity of federal Workforce Innovation and Opportunity Act (WIOA) funds, along with state and county grants as well as private donations.
To learn more about this exciting opportunity and confirm eligibility, contact Laura Nilsen, Career Counselor at JET, via email at Laura.nilsen*AT*nemojt.org or phone 218-499-6090.