Fond du Lac Tribal and Community College is pleased to announce a new class being offered this summer, Geography 1060: Small Unmanned Aircraft Systems. Students will get hands on experience flying a drone and receiving training for the FAA Remote Pilot Certification exam during the 8-week course starting June 1, 2022.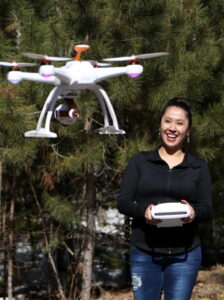 There is growing demand for the use of drones in a variety of industries.  Geography 1060: Small Unmanned Aircraft Systems will provide students with the skills to pursue opportunities in a variety of industries in our community, including construction, utilities, law enforcement, media production, and natural resources. "Drones are powerful tools that enable inexpensive, high-quality surveying, inspection, observation, and aerial photography and videography. They bring your eyes to the skies," said FDLTCC Geographic Information Systems Program Coordinator, Dr. Carl Sack, PhD, "They give you an expansive view of your surroundings on demand."
This course will prepare students for the FAA Remote Pilot Certificate exam, which is required to legally fly drones professionally or within 5 miles of an airport. "Becoming a licensed drone pilot gives you the freedom to legally operate a drone almost anywhere in the United States," shared Dr. Sack, "Taking this course gives you the know-how to operate your equipment safely and get the most you can out of it."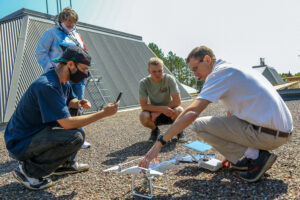 This course is open to anyone interested in learning to pilot drones. To register for the course, students must first apply and enroll at FDLTCC. Students in the class will receive 2 credits of undergraduate coursework. The FAA Remote Pilot Certification exam is not offered as part of the course. The exam may be taken at a local testing center and costs $150. Remote Pilot Certification is good for two years and can be renewed by taking a free online refresher course.
For more information, contact Dr. Carl Sack via email at carl.sack*AT*fdltcc.edu. Visit https://fdltcc.edu/admissions/apply-here/ to apply to FDLTCC and begin the course registration process.