We are sad to share that FDLTCC President, Stephanie Hammitt, passed away on Monday, November 14, 2022.  President Hammitt loved this unique and special college. She was especially proud of the students at FDLTCC, along with the support and guidance that provided by the staff and faculty. We are proud of the many important college accomplishments that were achieved under her leadership, and she will be missed tremendously. Our thoughts are with the Hammitt family as we mourn the untimely passing of our great leader, colleague, and friend.
Arrangements for President Hammitt's Visitation and Mass of Christian Burial are available at https://www.nelsonfuneralcare.net/obituary/stephanie-hammitt. The FDLTCC campus will be closed on Friday, November 18, to give the FDLTCC community the opportunity to attend the Mass of Christian Burial.
A Celebration of Life is being planned at FDLTCC, more information will be shared in the coming weeks.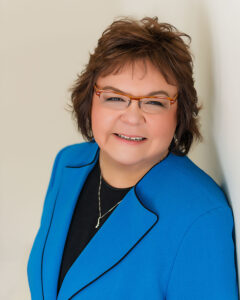 Stephanie Hammitt Scholarship Fund
In honor of President Stephanie Hammitt, the Hammitt Family has founded a scholarship fund for students of FDLTCC. If you are interested in donating to the Stephanie Hammitt Scholarship Fund, please make checks payable to: FDLTCC Foundation and in the memo, include Stephanie Hammitt Scholarship. Mail to the college at: 2101 14th Street, Cloquet, MN 55720.
To donate online, please visit https://link.fdltcc.edu/OnlineDonation and click "Donate". On the form, please indicate the Stephanie Hammitt Scholarship Fund in the special instructions box. Thank you for helping support our students on their educational path here at FDLTCC.