Fond du Lac Tribal and Community College welcomed runners and walkers back to the beautiful FDLTCC campus for the 17th annual Pumpkin Run & Walk 5K on October 22, 2022.  Participants were treated to wonderful fall weather for the five-kilometer race on Saturday in Cloquet. 190 runners and walkers finished the oldest Halloween-themed race in northern Minnesota.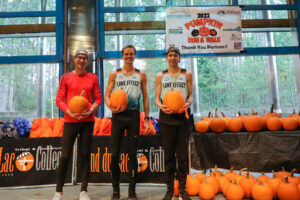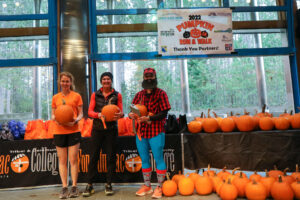 Overall winner Scott Behling of Duluth finished with a time of 15:21.5. Tom Sederquist of Duluth finished second in 15:34.5 and David Hyöppönen of Duluth was third with a time of 17:24.6.
Kelly Leal of Duluth finished first in the women's overall division with a time of 22:16.4, placing her eighth overall. Second place went to Amber Kantonen of Mahtowa in 23:06.9, followed by Cassie Gaede of Duluth in 23:45.7 for third place.
Race participants celebrated the theme of the Pumpkin Run by wearing creative costumes or orange and black clothing. Competition was tight for the coveted Best Costume awards, with the winners covering a range of characters including a pair of tooth fairies, a fish taco, Cruella de Vil and a dalmatian, and more!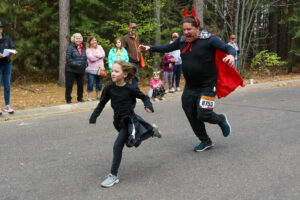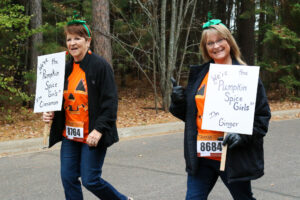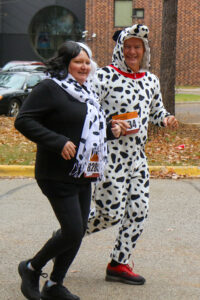 The racecourse started on the FDLTCC campus and then followed 14th Street going south to the Valley View neighborhood and then turned around on Harner Lane and returned along 14th Street to the campus. The race was professionally timed by Gopher State Events using electronic chip timing attached to each participant's race number bib, and individual results and a finish line photo were sent to each finisher immediately upon crossing the finish line.
Upper Lakes Foods provided all the fantastic post-race refreshments, and several other local businesses sponsored the race including Tortoise & Hare Footwear, Duluth Running Company, Austin Jarrow, Mellin Promotional Advertising, Conservation Corps Minnesota & Iowa and Air National Guard 148th Fighter Wing.
Age Group Winners
Age Category
Male
Female
Name
Time
City
Name
Time
City
14 and Under
Aiden Korby
19:12
Cloquet, MN
Olivia Korby
27:24
Cloquet, MN
15 – 19
Tanner Warner
22:20
Moose Lake, MN
Shelby Reynolds
29:14
Barnum, MN
20 – 29
Carson Becicka
19:10
Cloquet, MN
Gracee Petersen
29:12
Sandstone, MN
30 – 39
Scott Behling
15:21
Duluth, MN
Kelly Leal
22:16
Duluth, MN
40 – 49
David Hyöppönen
17:24
Duluth, MN
Amber Kantonen
23:06
Mahtowa, MN
50 – 59
Joe Fournier
22:46
Proctor, MN
Yvette Maijala
24:12
Wrenshall, MN
60 – 69
Jarrow Wahman
19:37
Duluth, MN
Elizabeth Baltich
29:36
Duluth, MN
70 and Over
Herb Dillon
47:11
Duluth, MN
Marilyn Schnobrich
32:51
Duluth, MN
Complete race results are available at www.gopherstateevents.com.