The popular Pumpkin Run & Walk 5K will be back in person at Fond du Lac Tribal and Community College on October 23, 2021. With 4 weeks to go, it's time to lace up your running shoes and register for northern Minnesota's oldest Halloween-themed race!
Fond du Lac Tribal and Community College is hosting the 16th annual Pumpkin Run & Walk at 10:00 a.m. on Saturday, October 23, 2021. The 5 kilometers (3.1 miles) race will begin and end on the beautiful Fond du Lac Tribal and Community College campus. The event is open to runners and walkers of all ages and abilities.

[su_button url="https://www.tempotickets.com/event/wctnjf" target="blank" style="flat" background="#D44411″ color="#ffffff" size="7″ icon_color="#D44411″ text_shadow="2px 2px 2px #000000″]Click here to register![/su_button]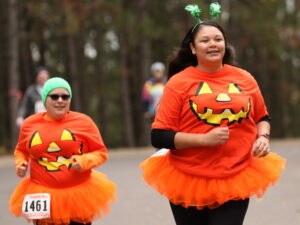 "The Pumpkin Run & Walk has a long history at Fond du Lac Tribal and Community College and we're ecstatic to continue the tradition with a fantastic event this year!" said Taylor Warnes, Director of Marketing and Communications at Fond du Lac Tribal and Community College, who is also the new race director of the Pumpkin Run. "We're excited to welcome runners, walkers, people in costumes, students, area residents, and people from around the region to experience this wonderful run on our campus."
The entry fee leading up to and on race day is $20.00 for everyone, with special pre-registration rates for students and individuals if submitted prior to October 15 (Current students get the lowest rate of just $12.00 if they register before October 15). Online registration is available through Tempo Tickets at https://www.tempotickets.com/event/wctnjf. Participants can also register by mail in advance or on the day of the race. To celebrate the theme of the race, participants are encouraged to wear Halloween costumes or wear orange clothing. Prizes will be given for the best costumes.
The Pumpkin Run's five-kilometer course is a mix of the campus ring road, County Road 3 (14th Street), and the residential streets of Valley View Drive and Harner Lane. Essentially flat, the course features a fast downhill stretch with a return trip up the same hill. Mile markers will be posted, and traffic control safety will be conducted by Law Enforcement and Nursing program students at the college. Every registered finisher will receive a long-sleeve t-shirt and post-race refreshments. Medals and pumpkins will be awarded to the top three overall male and female finishers. Age group awards will be given to the top male and female in each of the following age groups: under 15, 15‑19, 20-29, 30‑39, 40‑49, 50‑59, 60-69, and 70+. Awards and refreshment stations will take place in the indoor/outdoor amphitheater on campus and follow COVID-19 guidelines. Warm gathering areas will be available inside before and after the race. Well-fitted masks will be required inside campus buildings.
For more information or to get an entry form, visit https://fdltcc.edu/campus-life/pumpkin-run-walk/ or call 218-879-0800.